edForce Cloud Labs ensures that your employees get hand-on training along with theoretical knowledge.
With it, your employees can practice new skills as they learn it, and gain practical know-how from the very first day. This ensures that they are well-equipped to meet your business objective immediately post training.
Welcome to edForce Hands-On Labs
Affordable edForce Cloud Labs for your learning
needs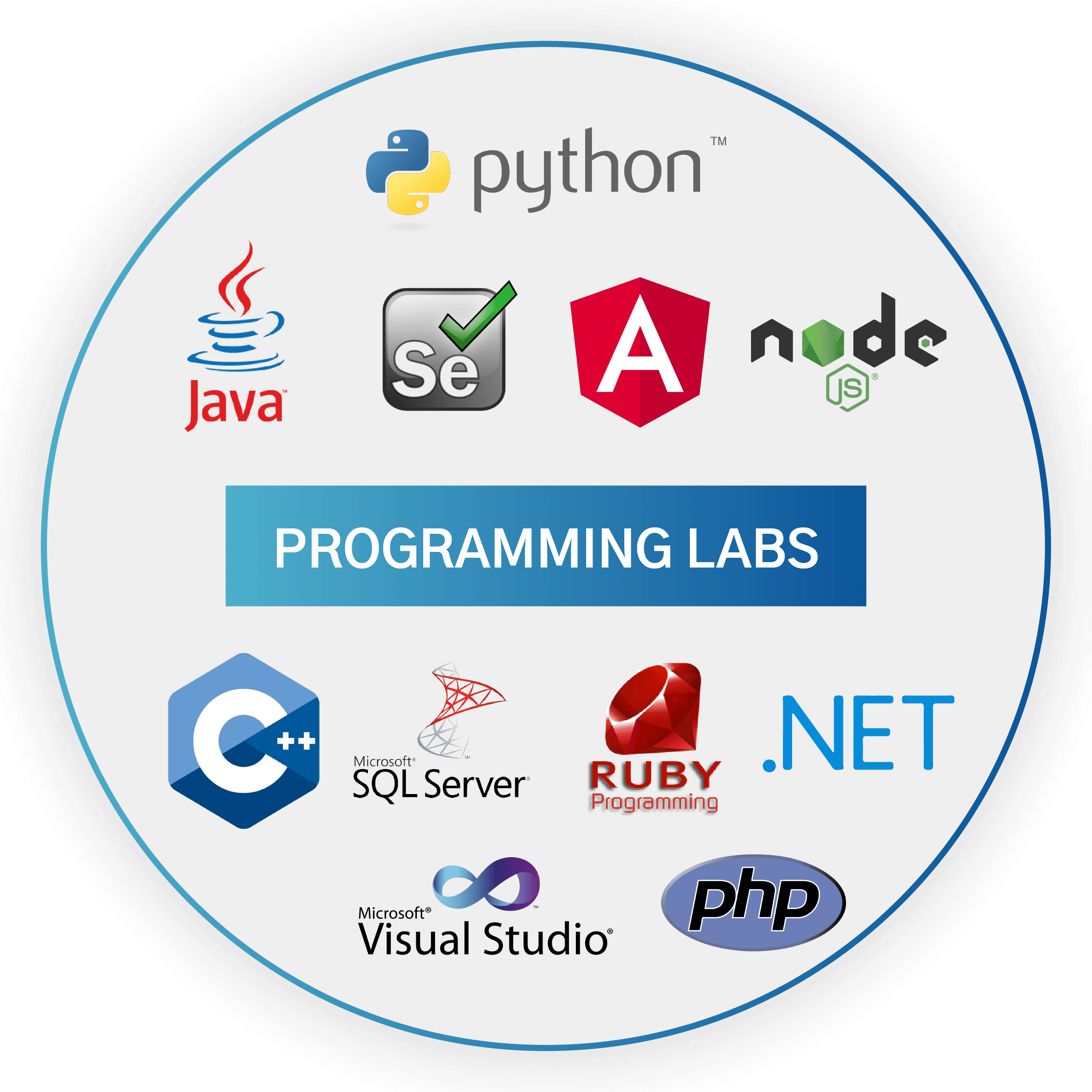 Rich features for every need
edForce Cloud Labs Key Differentiators
edForce is the name for all professional training with CloudLabs. We have been upskilling Enterprises, big and small, with all their CloudLabs inclusive training needs to join our courses and guarantee that your workforce will get first-hand training and concept-based expertise.
After Training with CloudLabs, the workforce gets to practice fresh skills, comprehend them and start implementing it in their professional performance. It enables best-in-class training, up to the mark as expected at the workplace. Training with CloudLabs has proven to be the best choice being made.
What are CloudLabs?
Training with CloudLabs is a digital lab platform experience that offers people practical experience by making learning better. As long as there is a good internet connection, sustained benefits from it come along.
CloudLabs training is a requirement for modern LnD leaders who are believers in visual learning. edForce delivers the best visual learning experience with hi-tech and the latest technologies used to create a highly professional atmosphere.
Upskilling with our technically advanced courses and enrolling for our training with CloudLabs adds knowledge about advanced features & technology updates.
Why 'Train with CloudLabs' via edForce?
CloudLabs training via edForce is the best experience to learn digitally advanced courses. Our courses enable the workforce to include the practical knowledge provided by us in their real-time work, hence increasing the quality of the work they serve to the company.
We Upskill by imparting learning and training for all the workaholic and growth-inclined individuals. edForce ensures that a workforce enjoys training with CloudLabs, a unique application experience with a hands-on lab.
Specialties of edForce CloudLabs Training
Being a professional service provider, we are happy to share our unique features with you. Our CloudLabs are:
Pre-Arranged lab archives and statistics
We are always set to serve employees on training with CloudLabs. They can justify their technical training. They can gain expertise rapidly without compromising their real-time workflow.
Each click is an absolutely unified approach
We have faith in offering knowledge that has no limitations. Our learning dashboard provides an unlimited approach to the CloudLabs inclusive training environment that is pre-specified.
Perfectly functioning software
Our CloudLabs training is highly re-investigated with focus, so all those enrolled with us don't have to face any such issue while using our services. Everything that is expected from it is served to the learners. The only thing required is to access the internet.
Multiple security approvals are not required.
We understand the value of time, thus we don't ask to go through multiple security approvals. Learners can simply log in and utilize CloudLabs during training hassle-free. Learners don't have to take the pressure of going through various security checks with us.
No limitation on Practice
Throughout the training along with CloudLabs, restrictions to CloudLabs features are minimal. With an internet connection, effective learning can be accessed at any time and from any location. Practicing and using CloudLabs during our training is possible without any hesitation or interruption.
Live Support is readily available
Our 24-hour assistance helps to ensure that both technical and non-technical concerns are resolved as quickly as they occur. We serve our clients with all-time assistance regarding CloudLabs training so that they can resolve any of their issues at any point of time in the day.
Increased retention rate
Our CloudLabs training experience is designed to meet the specific requirements of each of our training programs. This makes sure that learners have an engaging learning experience and can readily interact with the content. We focus to benefit the learners and in all possible ways.
Advantages of CloudLabs
Lowers the IT architecture.
Profitable.
Independent study.
Reachable from almost anywhere.
Do not rely on any hardware or software.
Very expandable.
Immediate Reaction.
Gaining acceptance and appeal.
Secure training.
Operates with any browser.
Low cost of maintenance.
Increases Employee engagement.
Professional training.
The focus of CloudLabs Training
CloudLabs training's focus is to provide a live experience to the user by allowing remote access. One doesn't have to download any specific software or anything else. There is no need for any spare installation, one can use it on any of the available browsers with the help of an internet connection.
It boosts the imagination and inquisitiveness of the employee enrolled as a user with us. This user can utilize various elements available as per their requirement. Training with CloudLabs allows users to do changes to the interior of the lab respectively to the requirement.
Are CloudLabs Free to Use
Training with CloudLabs is not completely free to use, the virtual labs based – CloudLabs make it convenient for its users by allowing them to pay only for the time the user worked actively. If the lab is closed, you do not have to pay for it. This feature saves extra expenses as well as becomes more efficient to use. One only has to pay for the duration of their training with CloudLabs.
Time has changed and people today prefer digital learning and experience. CloudLabs training is a freshly added technical training platform support where the user can work comfortably.
How can I create an ID on CloudLabs?
Learners just have to follow the simplest process to generate a valid ID for CloudLabs training experience. During the training, user selects the CloudLabs option during the training. By filling simple ID and Password, their ID is generated. They can access anytime for their training with CloudLabs.
Does edForce provide Live Online Training?
Yes, we do provide the employees with Live online training. We are glad to serve various businesses with our courses that help their employees to practically grow from basic to advanced level. We have a broad range of courses that go best with CloudLabs training to fulfil the requirements of a massive range of people.
What Courses does edForce offer?
We offer multiple courses to employees during their training with CloudLabs under various categories like – AWS(Amazon Web Services), Azure, Red Hat, AL, ML, Data Science, IoT & RPA, AR/VR, Cloud Computing, Big Data & Analytics, DevOps & ITSM, Programming & Testing, Stacks, Mobile & Web, Blockchain & Security, Databases, Agile & Scrum.
All these trainings with CloudLabs are highly professional and are a must for employees of big businesses.
What achievements does edForce have till now?
We have had amazing experiences while providing training with CloudLabs to some of the most well-known companies, including Infosys, Walmart, Siemens, Sony, Microsoft, Red Hat, HP, Dell, Flipkart, Amazon, Mindtree, DXC, Boston Scientific, Tech Mahindra, and ITC Infotech.
We believe in enhancing individuals more to digital platforms and making them aware of trending digital courses available online for them. Try our CloudLabs inclusive training and we assure support in the overall growth of the business.
A business is most likely to become successful if the employees working are Upskilled. We are all set to serve training with CloudLabs to make enterprises reach to a next level in the market.